With many shoppers turning to online shopping vs in store, it's hard to predict what Black Friday sales will look like this year. Especially when some of the major retailers like Walmart, Target, DICK'S Sporting Goods, Best Buy, and Kohl's have decided to be closed on Thanksgiving. Also, Amazon's Prime Day has been delayed, it is expected to start sometime in October not leaving much time before Black Friday sales begin. It has grown from a single day event to a month-long event full of product promotions. Here's some helpful tips to help you prepare for the holiday rush.
1. Start Sales Early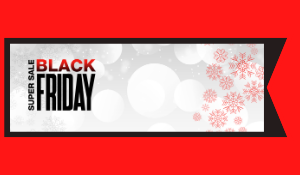 In order to avoid shipping holdups and running out of stock, it's better to space out sales, and start offering discounts and promotions now instead of waiting for Black Friday. Follow the lead of other retailers: Best Buy is going to start holiday promotions early and Target is going to start their biggest holiday deals in October and continue through the season. With many orders already moving online; the influx of holiday orders will bring about shipping delays…start preparing now on how to address these issues before they happen.
2. Know Your Audience
Many retailers have adapted their products for people spending more time at home. "For example, restaurants are selling meal kits and recipe books online, cafes are selling coffee beans, and gyms and personal trainers are offering digital sessions", said Natalie Gibralter, who is the VP of Commerce at Squarespace.
3. Offer Different Pickup Options
A lot of major retailers are offering more pickup options such as in-store or curbside pickup for convenience and this allows for less people in the store coming in contact with each other. By offering pickup at the store vs shipping the items; is saves the company time and money.
4. Get Your Website Ready
Make sure your website is ready by adding products, building up inventory, and developing a plan for fulfilling those orders ahead of time. If you don't have a website, it's a good time to create one, as you are missing out on a large audience of online shoppers.
5. Expand Online Marketing
Use your website to collect email addresses of prospects and customers in order to build email campaigns. Use email and social media to announce new products, loyalty programs, and promotions. It's never too soon to start engaging with prospects and customers, that way they have you on their mind when they are ready to buy or start their holiday shopping.
Is your Warehouse Management solution keeping up with the influx of online orders or ready for the holiday rush? Contact us today, to learn how you can automate your warehouse operations with a new warehouse management system and at the same time boost accuracy and efficiency.