Amazon.com Prime Now and Amazon Fresh are under strain of new demand for delivery services due to consumer concerns of going to brick and mortar stores during the health crisis. Last week the company warned customers that both services have been overwhelmed and that limited availability would result in longer than usual deliveries. The number of people and trucks assigned to the services has not been reduced. The large surge in demand is responsible for affecting delivery capacity. Virus-spooked consumers are turning to the online retailer rather than visiting brick and mortar stores.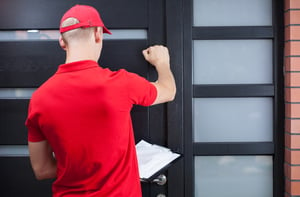 The normally speedy services are extending delivery times by at least a day which could be longer if the number of coronavirus cases increases. Other same and next day delivery services including Walmart have warned of limited availability in the past week. Demand is growing as shoppers are stocking up on products in anticipation of the coronavirus outbreak.
Prime Now posted a notice to shoppers warning of limited delivery availability in several markets including Seattle, New York City, San Francisco Bay Area, Orlando, Chicago, Miami and Boston among others. Some services declined to take orders until delivery windows were open.
At the same time, cargo volumes at U.S. ports in the first quarter could be down by 20% or more from 2019 due to the coronavirus impact on the supply chain according to the American Association of Port Authorities (AAPA). AAPA said U.S. ports "are closely following instructions and protocols from appropriate federal agencies to quickly respond to the coronavirus threat." AAPA characterized the two-week latency as both a blessing and a curse. "The lag time gives our ports, Coast Guard, Customs agents and health officials time to prepare for screening, possible quarantine or rerouting of crew members and travelers who may be infected."
We are wondering how the coronavirus has affected your business and customer expectations. Some Cadre customers have reported slowdowns getting RF scanners fixed because of supply chain issues, mainly electronic parts from China.