Surging Ecommerce Trends Strengthened by the Pandemic are Increasing Profitability in the Cold Storage Sector
Food warehousing and transportation has been happening for a long time, but advances in technology and foods safety; supply chains have progressed to meet the changing demands of consumers and businesses. As we have seen from the pandemic, expectations are high when it comes to product choices and availability, and consumers because quickly displeased when those needs aren't met. Cold Storage is now one of the hottest topics in commercial real estate.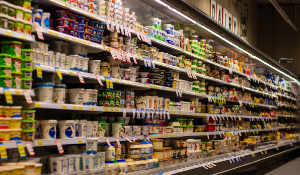 There are two primary sectors within the global cold chain – refrigerated storage and refrigerated transportation. "The Global Cold Chain Market is estimated to be valued at USD 218.0 billion in 2020 and is expected to Reach USD 320.2 billion by 2025," Vynz Research. A few factors have led to the major growth of this industry. The COVID-19 pandemic brought explosive growth to food and beverages through eCommerce channels rather than purchasing products in store. Through programs such as Amazon Fresh and other food delivery services, it has made it easy for consumers to get groceries delivered to the them without leaving the comfort of their home. Another shopping trend is consumers are looking for more natural foods with fewer chemical preservatives which requires a higher dependency on refrigerated transport and storage.
Keeping up with Demand
Refrigerated warehouses are expensive to build, at least twice the cost per square foot as traditional warehouses. After they are built, they are expensive to operate with high energy costs and no downtime. And long-term maintenance on equipment is always required and must be executed on a regular basis.
The cold storage industry continues to focus on increasing efficiency, lowering cost, and building flexibility in their warehouse and distribution centers. With the increase in e-commerce, it is important to not only get the products to consumers quickly, but while maintaining product quality and safety.
Alternatives to Building from the Ground Up
Delivery Sites are in high demand and finding the right piece of land is hard to find but building from the ground up (i.e. 'greenfield') is not the only option. As grocery stores get fewer traffic, they could be transitioned into cold storage distribution centers. Also, since these stores are normally located near populated areas, makes it a central location for ecommerce distribution as well. Another option is shopping malls, as they are usually in densely populated areas as well. As consumers are shifting to online shopping, not as many people are going to malls. Malls may provide a lot of types of stores in one place, but now a days, most stores have a website where you could purchase whatever you need online. Underground storage is another alternative in the Midwest offering low humidity and refrigerator temperatures in cave-type facilities.
Cost Saving Options
Oxygen Reduction Systems (ORS) can be used as a low-cost suppression solution. This solution can be used at any ceiling height whereas traditional sprinklers are restricted to 50 feet or less. The low oxygen facility is not suited for humans, but robotic technology like automated storage and retrieval systems (AS/RS) can be used. To enter these facilities, workers need to carry oxygen with them when performing maintenance or inspections. Owners are also looking for ways to lower energy costs and reduce greenhouse gas emissions through alternative energy solutions, water usage reduction, and more efficient refrigeration systems.
In Summary
"As recent property sales have underscored, cold storage is not being affected by the general economic slowdown, though the number of operators may shrink as the leaders benefit from economies of scale and compress cold chain costs, Food Logistics." The cold chain storage real estate market remains strong, which is great for consumers who have gotten used to buying their favorite products online. The pandemic has brought to light challenges as well as opportunities that will in turn strengthen the cold storage industry.
Is your Cold Storage Warehouse Management System (WMS) able to keep up with the increasing demands? Go here to learn more information on how are solutions can increase efficiency in your warehouse operations.