While still a minority, the number of female professional truck drivers is rising rapidly.
Since 2010, there has been a 68% increase in female truck drivers, numbering 234,234 in 2018 according to the latest American Trucking Association data, as reported in the Wall Street Journal and graphically depicted here by Statistica.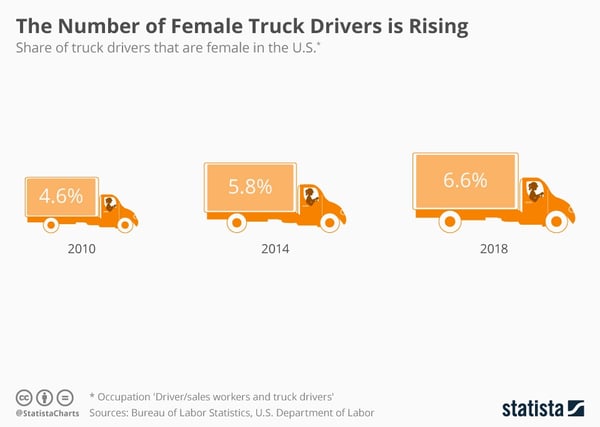 It makes sense, since there is a shortage of drivers on the market. It also makes sense because the pay for truck drivers is gender neutral, meaning that women and men are paid the same for the same work. Women have a long way to go to catch up however. In 2018, females totaled only 6.6% of the 3.5 million truckers.
The labor shortage in warehousing may also well be solved by recruiting outside of traditional channels, including hiring more women, as many of our customers are doing. Let us know if this is a trend in your company as well.
Contact us if you have any questions or to schedule a demo of Cadre's WMS solutions.