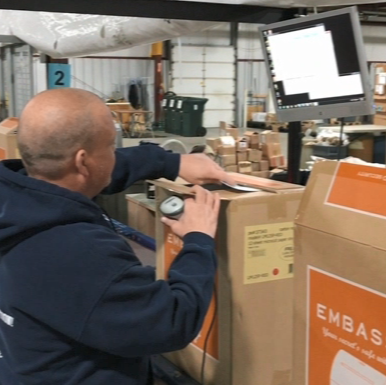 For any distribution or 3PL company, the holiday season takes preparation to make sure packages get out the door as quickly as they came in and that quality is not sacrificed for speed.
But for the International Marketing Group (IMG), located outside St. Louis, moving more than 85,000 orders in three days meant far more than preparation — It required optimizing and enhancing their pick/pack operations in all aspects.
This massive ordering volume for IMG came from a great break for one of IMG's customers – a product was going to be featured on a major television broadcast that predicted large orders to come for the brand! This was great for their customer, and for IMG, but also came as a major challenge as they were not used to orders of this volume, let alone in a single weekend.
With the help of Cadre Technologies' Shipping Label Picking (SLP), a module for Cadre's Cadence software, IMG was able to accomplish their goals.
With quick a quick turnaround rate, knowledgeable staff, and comprehensive software that can tackle any shipping and packing dilemma, Cadre Technologies was able to provide IMG with the software needed to complete and ship out this influx of orders in the nick of time.
To fulfill the needs of their customer, IMG, Cadre was able to customize a module to add on to the software they already had with Cadre. Their needs grew quickly with this broadcast, and IMG needed a solution that could be completed quickly, in time to meet the upcoming demands of this event.
Cadre Technologies was able to deliver, as promised, so things ran smoothly for IMG.
"The new speed of our system surpassed our expectations," said Bobby Dewitt, VP of Technology for IMG. "Doing something at this volume was inconceivable before. Now we can."
Read the full version of this story and learn about the process and module enhancements that Cadre used to help IMG!