COVID-19 has required shoppers to wear masks, maintain social distancing measures, and walk down one-way aisles. At the beginning of the pandemic, many consumers shifted their shopping to online. According to Statista figures, "there were 227.5 million online shoppers in the US for 2020—approximately 88% of the adult population. This number is projected to climb even more, reaching an expected 230.5 million in 2021 and 278.3 million in 2024."
Mobile is Key
Mobile apps have become an important part of the store experience. For instance, Walmart's app helps shoppers navigate through the store, get product information, and even check out. Using the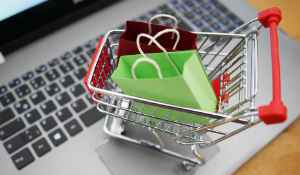 app in store, gets the consumers familiar with the app which you can also use to purchase items online. More shoppers are searching for products on their phone, so it is important to make sure shoppers are able to purchase items on the store's website or direct them to an app where they can purchase your products. Mobile shopping was at $117 billion in the US in 2018 and is expected to jump to $209 billion by 2022. On that note, make sure your company's website is mobile friendly, making it easy to read for those using a mobile device. Also, customer and prospect emails should not only display well on a computer, but also a mobile device.
Changing Where Fulfillment Is Done
In stores with a large volume of online orders, they are starting to look for other options for fulfilling besides the store aisles, such as to the back of the store or to a completely difference facility. Some questions to ask yourself is if it's time to use more automation, incorporate robotic solutions, or use dark stores. Jordan Berke who runs Tomorrow Retail Consulting "estimates grocers can increase picking efficiency 70% just by moving fulfillment into a dedicated space."
Personalized Experience
Shoppers want a more personalized shopping experience. You can use a customer's purchase history, to send emails recommending complimentary products or new items that they might be interested in. Some grocery stores are linking their website and applications to meal planning software to help shoppers plan out their meals for the week, browse recipes and receive personalized recommendations.
Multiple Delivery Options
Although lots of stores are offering shipment to the store, and curbside pickup, delivery to your home has become increasingly popular. President Nilam Ganenthiran at Instacart, a grocery delivery service, said since March they have added a pickup service at more than 1400 stores. Other competitors such as Uber and DoorDash, restaurant delivery giants, are moving into the grocery delivery space. Let's not forget major online retailer Amazon, offering same day delivery in select locations for products, including grocery items through Amazon fresh.
Black Friday
With more consumers shopping online, and several major retailers being closed on Thanksgiving, Black Friday will look a lot of different this year. Read our recent blog on Black Friday for some tips to help you prepare.
Are you looking for a more efficient warehouse fulfillment solution, contact us today to learn how our Cadence Warehouse Management System can be customized to meet your needs.