At the beginning of the pandemic, warehouses were trying to navigate through changes put in place to keep workers safe, as time went on, companies were able to figure out what worked and what didn't work.
People's Safety is Important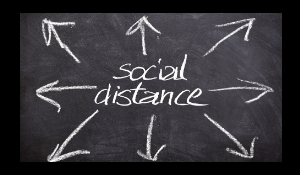 Companies invested in PPE, temperature monitoring and adjusted schedules and processes to allow for social distancing. One company, who has had fewer than 10 of the company's 700 employees test positive, made break rooms bigger, adjusted lunches and break times, changed cubicle layouts, and limited the number of visitors in the warehouses and offices. They also put into place strict cleaning protocols for forklifts and tractors. "We have the cleanest forklifts and the cleanest tractors you can imagine because we clean them after every break. There's no reason for it to stop. It's just habit now." This will be the new normal going forward in almost all warehouse operations.
Technology Plays a Big Role
There's a lot of different software applications that can help maintain social distancing measures and keep workers safe. Employees can do check-ins on potential COVID-19 symptoms before starting their shift, and routes can be created to ensure employees are maintaining proper distance from each other. Software can also stagger orders or organize orders in a way that employees are working in different areas of the warehouse, and not all ending up at the same pick location at the same time. Also, software can track if employees are not working at the normal capacity, which could be a sign of illness. And of course, dock door management can allow for the scheduling of loads in a 'socially distanced' manner.
E-commerce Surge
Warehouses had to put into place new cleaning and scheduling protocols to keep workers safe, at the same time, e-commerce orders were multiplying as in store shopping shifted to online. Companies had to figure out how to navigate through these changes. Just as warehouses are now getting used to new protocols and changes within the warehouse, it's time to start preparing for the holiday rush, that is just around the corner. As you prepare, here's some tips to help you get ready for Black Friday and the holiday sales.
Is your warehouse able to keep up with the e-commerce demand? Contact Cadre Technologies to learn how to increase accuracy and efficiency in your warehouse operations.