Benjamin Franklin's sage advice from long ago is also true with modern day logistics. It is specifically applicable to shippers who are deciding whether to outsource warehousing operations or take them on in-house to maintain control.
Busy 3PLs do many more and different types of tasks in an hour than most in-house organizations perform in a week. eCommerce fulfillment has radically ramped up the time, complexity and performance demands over the past several years. With each new client, new product line and new supply network, competitive 3PLs solve complex supply and delivery issues as a matter of course. Each challenge is handled with a diversity of experience and can-do frame of mind. The more things they do, the more things they can do.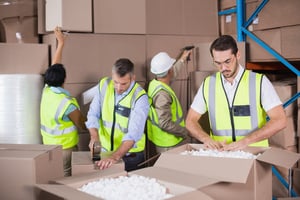 The same is true with technology. A seasoned third-party provider has seen and tried many different technologies including warehouse management, transportation management, and data interaction between other systems. Successful omnichannel logistics companies have found that software must operate to serve business models with flexible, configurable functions to meet a myriad of challenges without customization.
The in-house alternative is not nearly as robust. While control may be desirable from a top management perspective, the results are more narrowly focused with less room for innovation. The attitude is totally different as well…performance in a 3PL warehouse drives the bottom line. In-house operations are viewed as cost centers.
Most people prefer enthusiastic, can-do response to a challenge. It's what Ben would have expected.