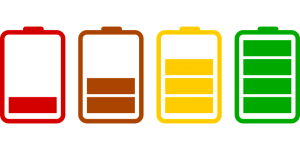 Material handling applications that rely on lithium-ion batteries will see an upswing of interest in 2018.
According to DC Velocity, lithium-ion battery prices are dropping and more forklift products relying on the batteries were introduced to the market in 2016. Industry experts say that the batteries gain market share from traditional lead-acid batteries in future years.
Lithium-ion batteries are desirable for the material handling industry for two main reasons: They offer high-density storage — about three times the energy of a comparable lead-acid battery — and they are lightweight. This makes them perfect for handheld devices like scanners. They also charge quickly, don't let off gas in the charging process, and don't require cool-down intervals.
Cost has been one of the greatest barriers to adoption in the material handling market. In some cases, the lithium-ion batteries are priced three to four times the cost of lead-acid. However, prices have dropped to two to three times the cost of lead and some industry leaders, such as Mil Ovan, president and chief executive officer of Navitas Systems, maker of the 24-, 36-, and 48-volt Starlifter battery, say that price drop will be enough to convince companies that operate their facilities 16 to 24 hours a day.
Ovan says a company case study, supported by the New York State Energy Research and Development Authority and involving a cold storage facility in upstate New York, showed a 17 percent increase in the number of pallets moved per hour due to the implementation of lithium-ion batteries. The study also showed the ROI for a truck powered by a single lithium-ion battery is less than two years in two- to three-shift applications.
"So, if you're going to grow 15 percent next year, you can grow without [adding] more labor and forklifts. Now, the lithium battery pays for itself in 15, 16 months," he says.
There is also increased efficiency linked with abandoning lead-acid batteries as they cost time and money in maintenance protocols. They also require warehouse space for maintenance and charging. Lithium-ion batteries can be charged anywhere and will never need a special maintenance room for storage.
Lithium-ion battery producers are already seeing increased interest in their product. Flux Power, located in Vista, California, reported that last year it received a total of $1.1 million in orders for its lithium-ion LiFT Pac batteries for Class 3 walkie pallet jacks. The company says that the increased production levels is due to growing interest in the technology.
What batteries do you rely on? Which ones work best? Did you know your WMS can help you get and stay organized?