Nobody will deny that COVID-19 is having drastic effects across all verticals. And while entire industries are feeling the hit, it might just be supply chains that have been most impacted.
The realities of the total aftermath of this global pandemic are long from evident. As they continue to come into focus, it's becoming more obvious just how intensely current events have wreaked havoc (which will likely continue) on global supply chains.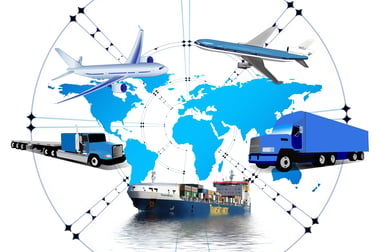 So many of us are waiting to see just what supply chain management will look like in the near future, as the path of "business as usual" rapidly changes. Will this all course correct? Or are we in it for the long haul?
Supply chain disruptions have resulted in mass, industry-wide efforts, as businesses scramble to pivot and figure out how to keep their supply chains moving. Many are struggling as they look for ways to navigate these uncertain times while ultimately attempting to avoid drastic interruptions that could result in dire implications for entire corporations.
Yes, the waters are still murky, and nobody truly knows what's to come in the future, but this much is clear:
COVID-19 is an unprecedented supply chain event. It has and will continue to result in uncertainty, disruption and fear, and will require every resource available to businesses as they come up with viable solutions to survive.
In short, we're in an all-hands-on-deck situation.
All the signs are pointing to the reality that real, effective solutions need to be quickly defined, finessed, revised and employed to save brands and corporations from utter destruction.
While we can argue that it's true we are far from the end, and it remains to be seen what COVID-19's final and long term impact will have on the supply chain industry, what's emerging from this once-in-a-lifetime uncanny event, is the realization that a global shut down is possible.
The thought of supply chains coming to a halt is something that was virtually unthinkable just a few short months ago. And as the pandemic that touched virtually every industry continues to show us: supply chain management is more fragile than we once thought. We are experiencing a very fluid time as "the norm" seems to change daily. To be agile and nimble is the best, perhaps only, chance for survival.
Businesses are facing an incredible challenge today. They find themselves needing to make quick, difficult, largely unguided decisions to keep their proverbial doors open. And not only are they faced with figuring out how to survive, they're also charged with altering basic business strategy and standards.
This new course they're forging is an intense effort to avoid the drastic effects COVID-19 may put on their brand. It's an effort that focuses on both the survival of their customer base and product production, as well as (and maybe more importantly) on the well-being and safety of their suppliers, employees, customers and other key stakeholders who are involved in the daily workings of their business.
At the very core of almost every decision made right now is the attempt to ensure the survival of businesses and strong supply chains, which ultimately will dictate how, or if, entire corporations are able to weather these times.
Supply Chains Concerns
Unknowns about the timeline of factories shuttering

Scrambling to find alternatives to closed factories and suppliers

Increased costs associated with new suppliers

Analyzing fixed costs and the final impact COVID-19 will have on corporate profits

Figuring out the right-here and right-now, as companies try to navigate the disruptions so many of them are experiencing
But there may be some good news.
Anytime disruption of any type challenges business, opportunities can surface. And in fact, there may be great opportunities here to help businesses recover and grow. The right moves now might just be the deciding factor on if a business can survive. In short, a lot is at stake.
So while all these concerns are valid and necessary, and they absolutely need to be addressed, if we're willing to look for them, new opportunities may emerge.
Potential Positive Impacts on Supply Chains
Do supply chains need to be more flexib

le?

Do companies need to find ways to combat the challenges we're seeing today to prepare for the event of another major global disruption?

Are there any possibilities for alternatives to outsourcing suppliers?

Can productions be scaled to accommodate a new need for distanced-work environments?

Will reduced freight volumes result in reduced shipping rates, significantly impacting bottom lines for corporations?

Can these improved bottom lines offset newly introduced costs that are pandemic-recovery-related?

Can a restructure in pricing (both internationally and domestically) end up being cost-beneficial?
It goes without saying that COVID-19 is shifting the supply chain industry. Finding some of the potential benefits to this new way we're being forced to look at the industry could have an additional, somewhat unintended effect, too. It may just give us some hope.
Are you looking for ways to pivot your business during this unprecedented time? Check out Cadre's White Paper How to Choose the Right WMS. It's your guide to choosing a WMS that fits your needs, now and in the future, as we start to see recovery and growth across the globe.