COVID-19 has changed the world in many ways, including how we shop and where we shop. Ecommerce shopping has increased exponentially. Things have changed, but will they go back to how things were before the pandemic or has these trends changed the way we shop for time to come? With new technology being developed, the industry will continue to evolve and adapt as trends change. Here is part one of this series.
How will we Shop?
Whether it is having items delivered to our door, using robots to fulfill orders, using smart shopping carts, or getting rid of the traditional check out process, the way we shop is changing. As vaccines are being administered, I don't think we will see an end to curbside pickup. Consumers enjoy the convenience of curbside pickup or having items delivered right to their door. This not only saves time, but saves money by cutting out those last-minute purchases like grabbing a candy bar or the latest gadget as you walk to the checkout aisle.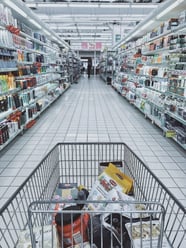 In July 2020, Amazon announced that its retail stores would feature their smart shopping cart also known as Dash Cart. These shopping carts are designed for convenience, allowing customers to use the touch screen to pull up their Alexa shopping list, but will also show the customers path through the store. They will be able to see how consumers move through the store as they decide which items to purchase. This data can be used to change the layout of the store to optimize the shopping experience or use the path to high traffic areas to entice customers to make other purchases along the way.
We see some stores offering apps so shoppers can scan items as they shop and pay using that app, cutting out a lot of time spent in the checkout lane. Amazon Go stores don't have actual check-outs. Upon entering the store, you scan the supermarket's app and cameras above monitor and weight sensors determine what items are picked up or put back. The items are then added to a virtual shopping cart and customers automatically pay for their purchases. Amazon charges the credit card associated with the Amazon account.
Stay tuned for part 2 as we discuss another topic in the retail industry of the future series.