This year has come with a lot of challenges and changes to our everyday lives and along with that changes within the supply chain as well to keep up with shifting demands and trends. Some of the trends will probably stick around for a while, while others will probably adapt and change as time goes on. We have compiled a list of our top blogs of 2020. Here's to a happy holiday season however you are celebrating it and a new year to come to start fresh.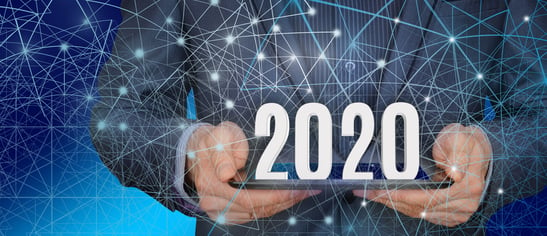 10. How the Pandemic is Changing Warehouse Management
At the beginning of the pandemic, warehouses were trying to navigate through changes put in place to keep workers safe, as time went on, companies were able to figure out what worked and what did not work. Here are some changes we have seen in how companies manage their warehouses.
9. How the Pandemic is Changing Shopping Trends
COVID-19 not only affected where we shop, but how we shop. No doubt, ecommerce trends are increasing, but will we see an end to these trends, probably not anytime soon.
8. WMS Buying Process, Just One of the Many Changes From COVID-19
There has been a lot of changes that have come about from the COVID-19 pandemic, the WMS software buyer behavior and the software buying process are just a few of these changes. Cadre has witnessed the necessary changes in the process and realize it may be a long time before the return to normal!
7. Is Supply Chain Management Dead? Or is it Changing (Forever)?
Since the advent of the assembly line, supply chain management has been an important factor when it comes to success. While there has always been a need for access to real-time data, increasingly, legacy technology limitations are resulting in a flawed system with at-best, limited transparency that means keeping up with data-driven competitors is nearly impossible.
6. 5 Tips to Help Prepare for the Black Friday Rush
Black Friday maybe be over, but holiday sales are still in play, not to mention the after-holiday deals. These tips can help you around the holidays are help prepare you for whatever your busy time is in the year.
5. Positives in The World of Supply Chain Management During COVID-19
It goes without saying that COVID-19 is shifting the supply chain industry. Finding some of the potential benefits to this new way we are being forced to look at the industry could have an additional, somewhat unintended effect, too. It may just give us some hope.
4. Turning Technical and Operational Competency into a Strategic Advantage
The nature of a logistics service provider's business is diversity. Every client has different customers, products, suppliers, carriers, and geographies. To be successful, a third-party logistics provider needs to bring facilities, capabilities, and broad experience to the table for each new client. But it is not only operating talent and facilities that wins business.
3. Dock Scheduler Helps Warehouse Workers Stay Safe
As we all work together to put the brakes on the spread of the novel coronavirus, it is more critical than ever to enforce physical distancing. While warehouse and transportation workers are essential to the economy, too much activity at the loading dock at once puts everyone at risk.
2. 8 Reasons You Can't Live Without a Powerful WMS
Having a good system in place allows for a tight-running, efficient and effective warehouse operation. Without one? You risk facing a multitude of potential problems. From workplace injury to a bad reputation, a weak WMS can result in real issues that any company would have difficulty overcoming. These can include late shipments, persistent out-of-stocks, and disgruntled customers, to name just a few.
1. If You Want Something Done, Ask a Busy Person.
Benjamin Franklin's sage advice from long ago is also true with modern day logistics. It is specifically applicable to shippers who are deciding whether to outsource warehousing operations or take them on in-house to maintain control.